First State Bank of Campbell Hill, in partnership with Kevin's Archery Center in Ava, held its Sixth Annual Youth Firearm Season Deer Contest October 12-14, 2019 in conjunction with the Illinois Youth Firearm Deer Season. A grand total of 67 deer were checked in.
Each participating youth received a blaze orange drawstring backpack compliments of First State Bank of Campbell Hill and were entered into a drawing for multiple prizes. Everyone had the same opportunity to win as the contest was not based upon the size of the deer, winners were drawn at random. Twenty-nine prizes were award this year during the prize drawing. The drawing was held at the conclusion of the contest at 9:00 PM on October 14 At Kevin's Archery Center in Ava.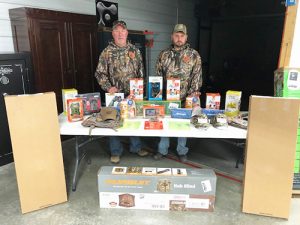 First State Bank would like to congratulate all the youth hunters and thank all those who made generous prize donations and contributions to the contest:
Kevin Bach Owner-Kevin's Archery Center
Bob Sparling Taxidermist
J&J Guns & Knives
Jacob Deer Rut
Ryan Reiss—Southern Illinois Spine & Joint Center
Dental Center of Nashville
Midwest Land Reclamation
Froemling Building and Concrete
FinalCall Outdoors
The Cupboard
TJ Luehr
Plans are already being made for the next year's contest.