First State Bank of Campbell Hill presented students with the opportunity to participate in CBAI's Foundation for Community Banking 2017 Annual Scholarship Program. This program is a statewide essay writing contest that requires students to write an essay on each of three topics concerning the impact/importance of community banking on themselves, someone they know and their communities.
In support of the statewide contest, Frist State Bank of Campbell Hill locally awarded three $500 scholarships to students who elected to participate in the contest. One $500 scholarship was awarded to a participating senior from Trico, Steeleville & Coulterville School Districts.
2017 Scholarship recipients:
Kaeli Caraker—Trico High School
Chelsea Hill—Coulterville High School
Hunter Fedderke—Steeleville High School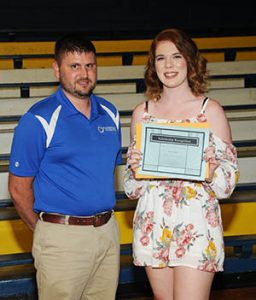 Ryan Berry, Loan Officer, presents Kaeli Caraker with her $500 Scholarship Award.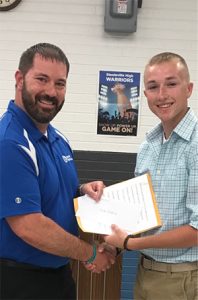 Matt Davitz, Branch Manger Steeleville Banking Center, presents Hunter Fedderke with his $500 Scholarship Award.